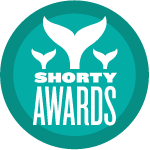 The Shorty Awards are here again. For those that don't know, The Shorty Awards are an award program where people vote through Twitter. Votes count the most when you give a reason why you are nominating something. The best part is, you can nominate any Twitter account for anything. Currently, WWE is #2 for TV Show. This gives Syfy the impression that their decision to squash Caprica and Stargate Universe for wrestling was the right one.
Let's send a message that they're wrong – the Sci Fi loving audience is here and we will be heard. Below you will find a list of categories which you can click on. Once there, insert the twitter account you'd like to nominate. Accounts related to Caprica are listed below each link.
Please use a unique reason for why you are nominating them so that your vote counts more. Let's show the Twitterverse that Caprica is still alive and kicking, even one year after Syfy abandoned it!
 @Syfy_Caprica
 @Syfy
 @BeginningOfLine
 @CapricaTV
 @JaneEspenson
 @remiaubuchon
 @bearmccreary
 @SergeGraystone
 @alekspaun
 @ATJogia
 @bengcotton
 @calumworthy
 @dopudmike
@ericstoltz
@Esai_Morales
@MrPanou
@pattonoswalt
@peterwingfield
@Raj_Lal
@richardsharmon
@RyRobbins
@sasharoiz
@scottporter
@zaksantiago
@BambolaBambina
@carmenmoore1
@genevievebue
@leahdianegibson
@lucianacarro
@OfficialMagdaA
@paulamalcomson
@sophielui
Share on Facebook